Layla

**If you think you saw Layla on here before, you're right. Layla's forever home didn't work out :( So she is back up for adoption!** Meet The Dutchess of Deafness! This blue-eyed beauty is one special girl. Thunderstorms, fireworks, loud noises or lots of commotion? None of that will bother this little lady! Don't let the fact that she's deaf fool you, she is one smart cookie who loooooooves to snuggle! Layla likes cats a little too much, so she would do best in a home withouth any. Fill out your application to meet Layla today!
**DUE TO LAYLA'S SPECIAL NEEDS, WE REQUIRE HER FOREVER HOME TO HAVE A FENCED IN YARD**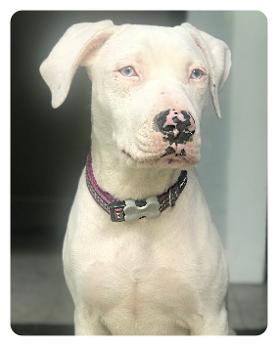 Rose
Meet Rose! She's from an overwhelmed shelter in Indiana where her family left her when they moved and took everyone with them… except her. After 5 years with a family, Rose has some anxiety about what's going on in life now. Her anxiety comes out in an overabundance of joy and love as she tries to prove why you should never leave. It's quite sad to watch honestly. Rose is finding the world to be a little scary. What's outside the window? What's down the block? Who are these new furry friends? The home Rose needs is someone with an abundance of time, patience and understanding. She's fine with dog friendly cats and loves snuggle time and meeting new people. Are you looking to help a dog enjoy life again and understand that she's never going to be abandoned ever again?