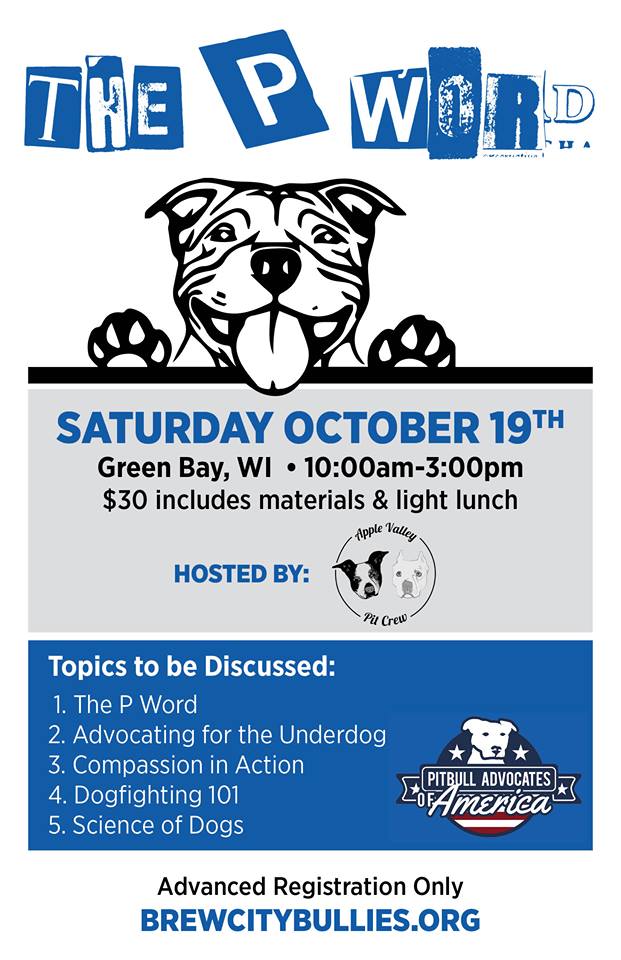 The P Word (Oct 19th)
Salvation Army Kroc Community Center
1315 Lime Kiln Road
Green Bay
,
WI
54311
Are you a pit bull type dog advocate, rescuer, owner or lover? Do you want to change minds and save lives? Are you already part of the solution but want to know how to be even more effective in your advocacy? The P Word can help you advocate more efficiently and effectively!
The P Word is equipping confident and knowledgeable pit bull advocates across the country!
Topics to be Discussed:
1. The P Word
2. Advocating for the Underdog
3. Compassion in Action
4. Dogfighting 101
Click the link below to get your tickets now!
https://www.showclix.com/event/pwordgreenbay?fbclid=IwAR08fQfYHtsqxGEiQKvzZBMpbhe1TWEedYb8Cf-THZJDIZcHoYNsaxIykKA
© Copyright Apple Valley Pit Crew